Art enthusiasts have uncovered an embarrassing artifact from President Donald Trump's past and it's making world-wide headlines this week.
A hand-drawn sketch by Trump was sold at auction recently for nearly $30,000. However, observers are noticing one small detail about the picture and the now thousands of Americans are laughing at Trump's childish attempt at art.
The drawing features the New York skyline, however it's not quite accurate – Trump drew his how Trump Tower building at the center of the skyline, among the tallest buildings in the city.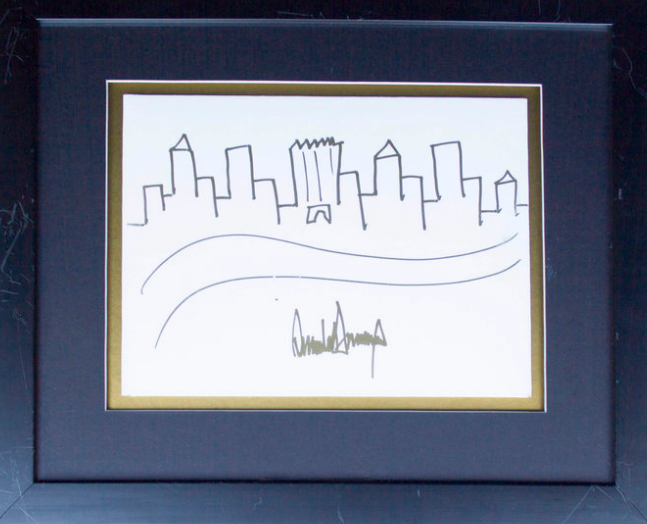 In reality, of course, Trump Tower is not the centerpiece to the New York skyline – Trump is just a self-obsessed idiot.
Art dealers said the piece is "near find condition" and "very rare," according to the official description posted by the auction house:
Donald Trump hand-drawn and signed sketch of the New York City skyline, with Trump Tower at its center. Composed and signed "Donald J Trump" in gold marker, artwork measures 11.5" x 9", nicely matted against gold and framed to 18.5" x 16". Light smudge and abrasion to right side, otherwise near fine condition. Originally drawn by Trump for a charity event, and very rare, with only a handful of such drawings known.
President Donald Trump's hand-drawn gold ink-sketch of Manhattan's iconic skyline fetched almost $30,000 at auction on Thursday.
An anonymous bidder stumped up $29,184 for the framed, signed drawing after it went under the hammer at Nate D. Sanders auctioneers in Los Angeles.
Bidding began at $9,000 and 11 bids in total were made on the piece, described by auctioneers as "very rare" and in "near fine condition."
Trump drew the picture in 2005 as part of mailing company Pitney Bowes' "Pushing the Envelope" child literacy campaign.
An anonymous buyer is now forking over more than $25,000 for Trump's hand-drawn art – if you can even call it art, that is.
One theory is that Trump himself, or someone associated with him, placed the outrageous bid in order to make Trump look good. Knowing how outrageous Trump's ego is, this idea is not too far-fetched.
What do you think – who would be stupid enough to pay $30,000 for a crappy Trump drawing?